Aluminium Angle is most commonly used in grade 6082-T6, which has the following characteristics:
Medium strength aluminium/magnesium/silicon alloy
Weldable
Good corrosion resistance
Machinable
Aluminium Angle is also available in grades 6063-T6 and 6063A-T6 and is available in standard 5 m lengths.  We are also able to cut to length, to high tolerances, using our in-house fabrication facilities.
(For more information on different alloys of aluminium and their characteristics, please see our aluminium page.)
Aluminium Angle is commonly used in the manufacture of:
Vehicle structural members
Bridges
Cranes
Machined components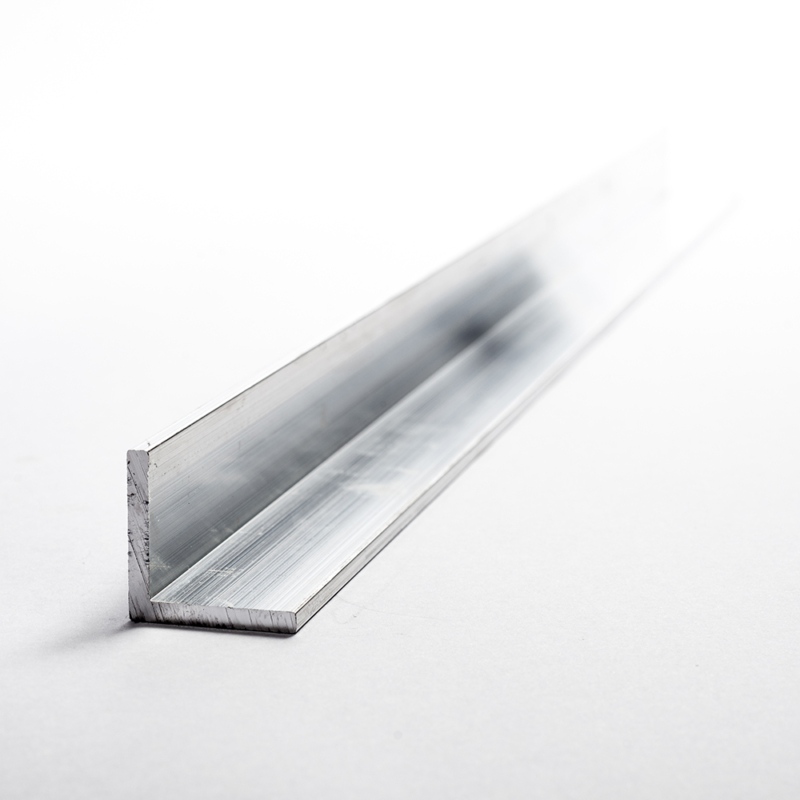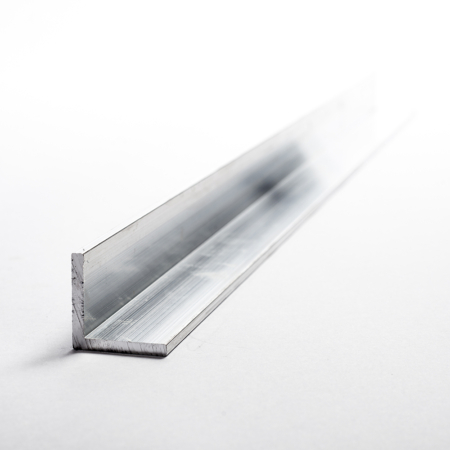 For a more comprehensive table of available alloys, their properties and typical applications, please refer to our Aluminium page.
Theoretical Weight per Metre (Kgs)
| Legs | Thickness (mm) |
| --- | --- |
| (mm) | 3 |
| 20 x 20 | 0.301 |
| 25 x 25 | 0.382 |
| 40 x 40 | 0.626 |
| 50 x 50 | 0.789 |
Theoretical Weight per Metre (Kgs)
Legs
Thickness (Inches)
(Inches)
1/16
1/8
3/16
1/4
3/8
1/2
3/8 x 3/8
0.075
-
-
-
-
-
1/2 x 1/2
0.102
0.191
-
-
-
-
5/8 x 5/8
0.130
0.246
-
-
-
-
3/4 x 3/8
0.116
-
-
-
-
-
3/4 x 1/2
0.130
0.246
-
-
-
-
3/4 x 3/4
0.157
0.301
-
-
-
-
7/8 x 7/8
-
0.355
-
-
-
-
1 x 1/2
0.157
0.301
-
-
-
-
1 x 5/8
-
0.328
-
-
-
-
1x 3/4
0.184
0.355
-
-
-
-
1 x 1
0.212
0.410
0.594
0.765
-
-
1 1/8 x 1 1/8
-
0.464
-
-
-
-
1 1/4 x 1/2
-
0.355
-
-
-
-
1 1/4 x 3/4
-
0.410
-
-
-
-
1 1/4 x 1
-
0.464
-
-
-
-
1 1/4 x 1 1/4
0.266
0.519
0.758
0.983
-
-
1 3/8 x 1 3/8
-
0.574
-
-
-
-
1 1/2 x 1/2
-
0.410
-
-
-
-
1 1/2 x 3/4
-
0.464
-
-
-
-
1 1/2 x 1
0.266
0.519
0.758
-
-
-
1 1/2 x 1 1/2
0.321
0.628
0.922
1.202
-
-
1 3/4 x 3/4
-
0.519
-
-
-
-
1 3/4 x 1
-
0.574
-
-
-
-
1 3/4 x 1 3/4
-
0.738
-
1.421
-
-
2 x 1/2 x 1/2
-
0.519
-
-
-
-
2 x 3/4 x 3/4
-
0.574
-
-
-
-
2 x 1 x 1
-
0.628
0.922
1.202
-
-
2 x 1 1/2
-
0.738
1.086
1.421
-
-
2 x 2
0.430
0.847
1.250
1.639
2.377
-
2 1/2 x 1
-
0.738
-
-
-
-
2 1/2 x 1 1/2
-
0.847
1.250
1.639
-
-
2 1/2 x 2
-
-
1.414
1.858
-
-
2 1/2 x 2 1/2
-
1.065
1.578
2.076
3.032
-
3 x
-
0.847
-
1.639
-
-
3 x 1 1/2
-
0.956
-
1.858
-
-
3 x 2
-
1.065
1.578
2.076
-
-
3 x 3
-
1.284
1.905
2.513
3.688
-
4 x 1
-
1.065
-
-
-
-
4 x 2
-
1.284
-
2.513
-
-
4 x 3
-
-
-
2.950
4.344
-
4 x 4
-
1.721
-
3.387
4.999
6.556
6 x 3
-
-
-
3.825
5.655
-
6 x 6
-
-
-
-
-
10.053